Dogmeat now has new modular body armor with new meshes and textures inspired by modern military and police K-9 Harness gear. Side pouches, backpacks, ballistic weave, faction patches, and a variety of colors and patterns can all be customized at the standard workbench. There are numerous options!
Creator: fadingsignal
K-9 Harness – Tactical Body Armor and Backpack for Dogmeat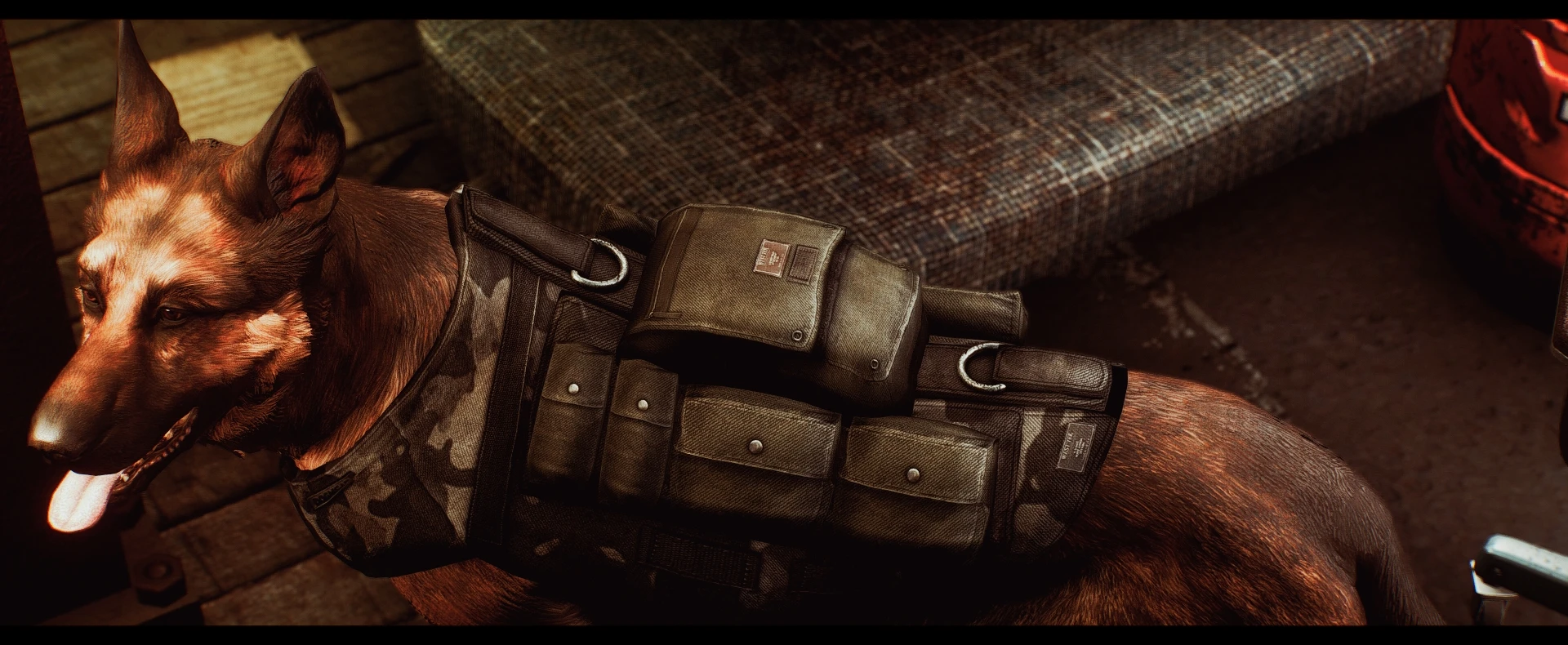 This mod does not have any known dependencies other than the base game.
Mods requiring this file
| | |
| --- | --- |
| Mod name | Notes |
| Armor for Shadowliger's Classic Dogmeat | Only if using my mesh edit |
| Arnes K 9 Spanish | |
| Audixas's VIS-G Patch Compendium | Patched mod |
| CWplus K-9 Harness | |
| DWT Pack Brahmin Alternate | |
| FadingSignal Sorted | |
| Hailey-a stealth save game | |
| K-9 Armor suit for the Dog | You need this mod in order to work. |
| K-9 Harness — Tactical Body Armor and Backpack (Russian translation) | |
| K-9 Harness — Tactical Body Armor and Backpack for Dogmeat – Chinese | |
| K-9 Harness — Tactical Body Armor and Backpack for Dogmeat – Traduzione italiana | |
| k9 harness bandana fix dogmeat | not really "required" i guess but might look kinda weird without it or idk might look cool without it too lol |
| LOST AWKCR VIS-G Patches | AWKCR and VIS-G patches for multiple mods! |
| Patches for Lively's Keywords Resource and Whisper's Standalone Workbenches | |
| Sim Settlements Conqueror Faction Pack- Minutemen (Liberators) | |
| Starguard Horizon Patches | |
| VISplus K-9 Harness | |
| Weapons Level List Patches | Optional |
Instructions from the author
Without my express permission, you may NOT upload this mod or any of its assets anywhere else. If you want to translate the mod, you can do so and upload it to NexusMods, but only the plug-in file; please do not redistribute the entire mod's assets.
Credits should be filed
In this file, the author has not given credit to anyone else.
Version 1.1
Merged settlement/raider dogs hotfix into main file
Removed old AE patches that were out of date and causing confusion and problems
Made 2K the default textures now; 4K is really not necessary for such a small object, but they're in the optional files
Version 1.0hotfix
Added RaiderDog to the armor so settlement / Raider dogs can wear the vest
AE version has fixed keyword for Dog Armor category (thx Gambit77)
DESCRIPTIONS
K-9 Harness: Tactical Body Armor (and Backpack) adds a new modular body armor for Dogmeat with brand new meshes and textures inspired by modern-day Military and Police K-9 Unit harnesses. Each component, which includes craftable side pouches, a backpack, ballistic weave, faction patches, and various colors and patterns, can be added, removed, or customized at the standard Armor Workbench, giving you a wide range of options.
To increase Dogmeat's carrying capacity, side pouches and a backpack can be added. Ballstic Weave can be added for added protection. More linings and options are available if you download the Armorsmith Extended version.
To craft the items, use the CHEM STATION and look under UTILITY
8 colors/ patterns currently available: Olive Drab, Black Tactical, Police Blue, Forest Camo, Desert Camo, Sky Camo, Urban Camo, and Winter Grey.
Harness and pouches can be colored separately for many color combos!
12 patch sets can be added to the side panels, featuring all vanilla factions, plus U.S. Army, K-9 Police, NCR, Reilly's Rangers, and Vault-Tec
Base vest has an armor rating of 30, with 15 extra damage resistance, but Ballstic Weave can be added for extra protection
Side pouches and backpack can be added/stacked to give Dogmeat +40 or +80 carryweight, respectively.
Compatible with everything, as it's a simple armor like the vanilla Dog armors, nor does it edit leveled lists or other vanilla records.
Please note, in this 1.0 version, the bags share the same area as the patches, so adding side pouches will make the patches unable to be seen. An upcoming update will add more areas to the vest for patches, for even more customization.
INSTALLATION
Download the main file (required)
Install using your mod manager of choice
To manually install, drop the BA2 and ESP files in your /data/ folder, and add K9TacticalHarness.esp to your plugins.txt
You will need the first rank of the Armorer Perk in order to craft the vest!
Once in-game, the harness is craftable at the CHEM STATION under UTILITY
If you want to use the console, type help k-9 0 armo exactly like that, then type player.additem xxx where xxx = the numeric ID next to the armor
From there, head to a regular Armor Bench and customize colors, packs, patches, etc!
NOTE: Ballistic Weave will not be available to craft until you unlock it during the quest lines like normal.
Download K-9 Harness files:
Notes
This is my first full body armor, which I completely modeled and textured from scratch. My West Tek tactical goggles were my first foray into modeling a wearable item for Fallout 4, but they weren't as complex as this because they were a small metal accessory with simple geometry. This was a completely different experience, a significant step forward for me, and could serve as a springboard to creating human armor and clothing. There are no guarantees, but stay tuned.
That being said, Dogmeat moves around a lot and has a fluffy layer of alpha-channel fur around him, so you may notice some minor clipping or stretching in some areas while he's fighting or sprinting, but not enough to notice IMO. I'll need to upgrade to 3DS Max to get a more advanced weight painting workflow.
Tools Used:
• Blender 2.75
• Photoshop CS6 + NVidia DDS plugin + Intel Texture Works Plugin
• Outfit Studio
• NifSkope
• Material Editor
• Creation Kit
• FO4Edit / xEdit
For more Fallout 4 mods check out these ones right here: